Author pens superhero story for real-life heroes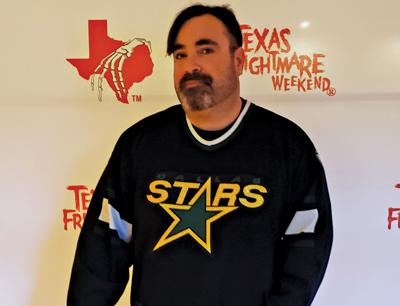 Combining elements of the supernatural horror, adventure and superhero genres, Greenville-born dark fiction author C. Derick Miller's latest novel, "Extinguished," is scheduled for release on Aug. 1.
The book tells the story of a young woman firefighter, Angel Burns, who comes across a ceremony where its participants are attempting to summon a demon – an experience that reawakens in her both long-repressed memories and long-forgotten supernatural powers. The heroine later finds herself on the payroll of the Vatican, and is put on a mission in which she has to keep the surviving Gutenberg Bibles out of the clutches demonic forces.
"I wanted to write a novel with a strong female lead and I decided to base it off of a female first responder because I thought it would be a cool idea to turn into a story," Miller told the Herald-Banner.
Long after deciding to write a novel that featured a firefighter as its main protagonist, Miller – who now lives in Dallas – was moved by how quickly first responders in Greenville rose to the challenge after violent, 85 mph winds and flying debris caused widespread damage in his hometown on June 19.
The tireless work of Greenville's firefighters, EMTs and police officers after the storm inspired him to offer half of his royalties from pre-orders and the first month of sales after the release of "Extinguished" to first responders in Hunt County. The book's publishing company, Death's Head Press, has also agreed to match Miller's donation dollar for dollar.
"Even though I live in Bishop Arts (in Oak Cliff) now, I watched the news and saw how first responders helped after the storm, so I thought I'd do a little something for them to give something back," Miller said.
The anticipated start date for pre-orders of "Extinguished" is July 20, when the book should be available for purchase on Amazon.com, Miller's own website CDerickMiller.com, and DeathsHeadPress.com.
"Extinguished" will be the sixth work of Miller's to be published in the last year and a half, following three novels and two short stories that appeared in anthologies.
"I've been planning on getting some time off soon, but it looks like I'm gonna have to wait," Miller said of his busy schedule.
One of the projects he has in the works is finding a comic book artist to help him adapt "Extinguished" into a graphic novel.
"I really want to market it as a super hero story, so I'm looking through graphic novels, looking to find the right artist," Miller said with a gleam in his eye.
Another upcoming project of Miller's is his first-ever children's book, "Cherish This Life," which he plans to self-publish through his independent company, Gonzo Wolf Press.
"There's definitely a market for paranormal children's books," Miller said. "I was at Texas Frightmare Weekend (in Dallas in May) and sold out of copies of "A Taste of Home" and "Far From Home" (his two most recent novels), but there was another author there selling paranormal children's books he'd written, and he was selling three for every one of my books.
"He had them set up down low, where the kids could see them as they walked by. It was genius," Miller said with a smile. "The hardest part of finishing a children's book is finding an illustrator, because it's pretty much a poem with pictures."
Miller is currently working with illustrator Samantha Jean Cloud, and hopes to be able to publish "Cherish This Life" sometime next year.
All published by Black Rose Writing within the last year and a half, Miller's three already released novels – "Diary of a Gonzo Ghost Hunter" and the first two installments of his "Home" series, "A Taste of Home" and "Far From Home" – are available for purchase off of Amazon.com, his website CDerickMiller.com, and at BlackRoseWriting.com
Also in recent months, two short stories by Miller – "Hell Paso" and "Nemesis" – appeared in the anthologies, "And Hell Followed" and "Dig Two Graves," both of which were published by Death's Head Press. Both anthologies can be bought off of Amazon or his own website, and also DeathsHeadPress.com.